Thanks to advanced firewall filters which customized and optimized for each specific user needs and much of additional security features, Emsisoft Online Armor Premium Firewall was rated as the best standalone personal firewall program for PC.
I should note that using a personal firewall is very important for both who installed a comprehensive security suite such as Bitdefender and who not yet. Because, you know, personal firewall program is a must-have software which should be installed on your PC first to prevent flagged information from entering your network and harm your computer; but there are not much security suites can be a perfect alternative of a personal firewall! Yup, you might no need a firewall in addition to Bitdefender Internet Secuirty 2012 (ore some thing like that), but who can stop you improving the secure for your PC system?
I think if I have a duty to pick a standalone personal firewall product up to introduce and recommend you for using, it must be Emsisoft Online Armor Premium Firewall.
Overview
Emsisoft Online Armor Premium Firewall by Emsisoft is a powerful proactive firewall which provides a premium protection to helps you monitors all data that is transferred on your PC and from your PC, minimizes contact surface for hackers and harmful software and protects you from phishing attacks. Offered an invincible shield before malware, viruses, Trojans, worms,…and much of dangerous threats from the internet, Emsisoft Online Armor Premium Firewall protects your money, identity and your personal data.
Features
You don't need to be a computer expert to use this software. Armor Online Premium Firewall offers all advanced features which user can customize over options visually on User Interface:
– Online Banking Mode
– Kernel Mode Security
– Automatic Updates
– Web Shield
– File/Registry Shield
– Phishing Filter
– Execution Protection, Termination Protection & Automatic Protection
– Powerful Firewall
– Online Malware Scan
– Standard Mode & Advanced Mode
– Keylogger Detection
– Import/Export Settings
– Tamper Protection
– DNS Spoofing Protection
– Free Support
– Script/Worm protection
– Program Guard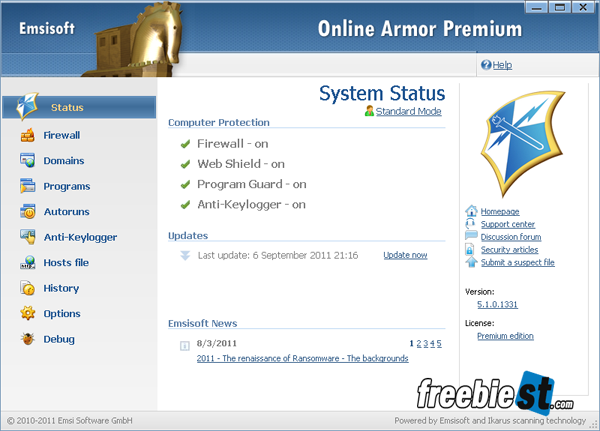 Emsisoft Online Armor Premium Firewall designed to simplified operation. Online Armor offers the unique and especially secure Online Banking Mode which help your computer can only access self-authorized online banking pages, while no other homepages, including phishing pages, can be accessed. Special, in latest version, v5.1, Emsisoft improved firewall protection continues to provide perfect protection for your Windows computer. This update offers improved detection of the dangerous Sinowal Rootkit and other current threats. It is also compatibility with other software protection has also been improved. New Online Malware Scan function can be accessed directly from the Program's list in Online Armor, by right-clicking on the file to be checked.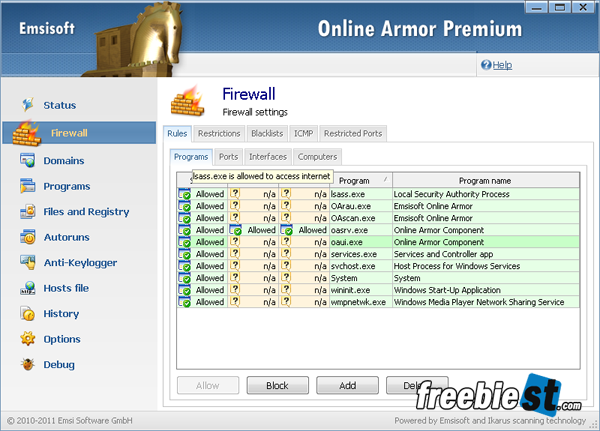 Emsisoft Online Armor 5.1 uses a new certificate-based evaluation system for safe programs. This means that Online Armor is now capable of deciding which applications should or shouldn't be permitted access and can make these decisions automatically. This results in a great reduction in the number of alert messages and irritating queries the user receives.
(Visit here for more features)
Pros & Cons
Pros: Comprehensive and advanced firewall protection with a lot of additional security features but easy to use for even if you aren't PC expert. Banking Online Mode is unique and very useful. It's even more than a firewall program in comparison with others.
Cons: Not free but good price.
Used Emsisoft Online Armor Premium Firewall? Please tell me what's pros/cons and your reviews of this software!